WHY IS IT GOOD TO BE WATCHED OVER BY A PERSONAL TRAINER?
The results come much faster during personal training, moreover, the joint trainings will be more entertaining, moreover, more safe.
An experienced personal trainer will be your efficient partner in weight loss, muscle building, body shaping and improving physical stamina.
The attention you deserve: personalized training plan and everyday motivation tailored to you, and moreover the most efficient assistance if you want to reach your fitness goals.
RESERVE YOUR FIRST SLOT!
Would you like to make your training more efficient and safe?
Then it is the personal training you need.

At the first session you'll receive: condition assessment = body composition measurement (Tanita) + movement pattern screening (FMS) + consultation.

LIMITED OFFER: now only 9 999 Ft instead of12 000 Ft!

Take the first step today!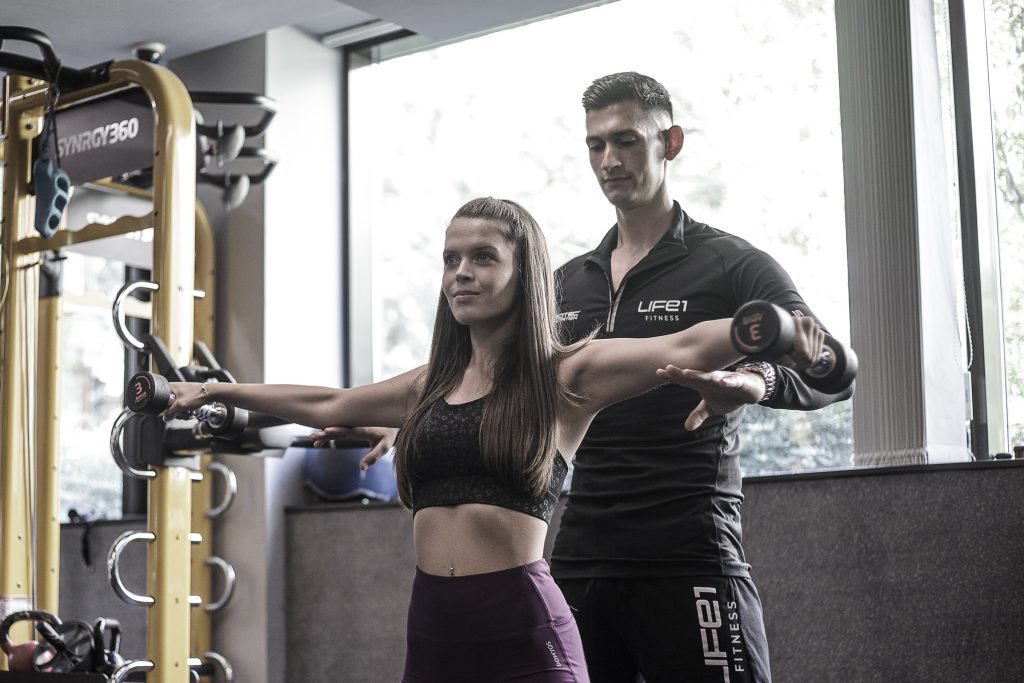 One of the greatest advantages of the personal training is that a part of it is a thorough condition assessment during which we also determine what types of movement you can do and what not.
We compile an individual development plan and during training the exercises will always be adapted to your actual condition and mood. After all, anyone may have a good and a less energetic day.
This is the personalized attention you also deserve.
Don't settle for any less than that!
"I've worked with several trainers before starting training in Life1 Fitness, but the development was most apparent here. I've been able to work out with professionalism, condition assessment and then using personalized program thus I could achieve more than I had set out for myself""
Martin Kis
"I was to try it once a week… Now I come to personal training three times a weekl. This professional attention is impressive, as the personal trainer tailors the programs for us, young people and elderly, strong and those wanting to be strong. The Life1 Fitness became part of my everyday life. I come to be tired, or to rest myself. All together."
Patrícia Domsa
Péter App-Varga
Professional edző
Orsolya Bogár
Professional edző
The focus of our training together is to train the whole body. However, this in itself would be like a one-legged table. The pillars of my holistic approach are: optimising training, breathing, recovery, nutrition, and improving posture. I believe it is important for everyone to exercise according to their own fitness level and health, and part of my job is to tailor your exercise programme to your physical and mental condition on a daily basis. Whether you are a beginner looking to learn to move or an advanced exerciser who is stuck and not making the progress you expected, I welcome you to my personal training sessions. I consider it my mission to teach you the most optimal exercises for posture improvement and prevention and to create exercise variations according to your age, gender, lifestyle, and personality. My goal is to give you a small kit that you can take with you and will be with you outside the gym, whether you are hiking or having a stressful day at the office
After the consultation and the health check, I compile a personalized training program (plan), then I provide lifestyle and nutrition information and advice as needed, and together we set off on a common path that leads to success. If you need post-injury rehabilitation, endurance development, toning, muscle gain or a simple lifestyle change, contact me with confidence and I'll help you achieve your goals!
I want to share my experience as a personal trainer with all those who need help taking their first steps at the gym, or with those who feel that they are stuck with their training and  that they could achieve more with a personal trainer. I am happy to help anyone who is contemplating a change in lifestyle, regardless of age and gender.
After setting new goals, I make an enjoyable workoutplan. My goal is also to be able to workout without any pain. I 'd like to welcome everybody who wants to change their life, or wants to perform better in other sports.
Máté Dékány
Professional edző
Zoltán Erős
Professional edző
Zsolt Felber
Professional edző
Gábor Füredi
Professional edző
Brigitta Godó
Professional edző
In my opinion the exercises and trainings should not be complex in order to enjoy its effect during the whole life. Therefore it is very important to learn the basic exercises. No matter which sport you choose in your life, with sure basics you will not have any problems.I'd prefer self- weight trainings, which I can teach you by various exercises, on a safe way adapting to your physical condition. Beside personal trainings and swimming trainings I welcome you on my Spinning® classes too!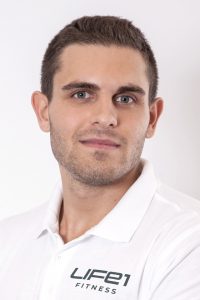 István Halasi
Professional edző
When I am working with my clients my main focuses are disease prevention, health promotion and encouraging active lifestyle. I give trustworthy, scientifically based knowledge to my guests. As a personal coach I pay special attention to improving the quality of life in addition to body shaping and prevention. Furthermore I can help with the recovery from an injury, therefore the preventative medical effects of regularly performing recreational exercise will soon become apparent and visible. Not only do I help my clients achieving their goals, but also I pay attention their physical needs, health and age. I show you a way to a healthy lifestyle to reach the fullest possible feeling of well-being, consciously structured workouts and nutritional advice.
Qualifitcations:
University of Szeged – Recreation organizer and Health promotion
Functional Movement Screen I-II.
Certified Functional Strength Coach
PwrON, Kaatsu specialist
Vivien Halmos
Standard edző
My workouts are mainly based on the elements of functional training: in addition to TRX and kettlebell exercises, there are also powerlifting and bodyweight exercises. Everyone has the challenges of modern life in their lives, so my goals for my guests are to be stronger, fitter and more resilient after learning the basic movement patterns. In my opinion, exercise should bring joy, so I consider it important to have a relaxed atmosphere in my trainings, in addition to order and discipline. After the preliminary consultation and condition assessment, I create the training program according to your own needs and goals, which is preceded by thorough planning.
Tamás Hegedűs
Professional edző
Natália Héjja-Jeszenszky
Standard edző
It seems hard to make the first steps into a healthy lifestyle, but I promise, once you make it, your life will change in the most unexpected ways. I'm here to give a helping hand trough your fitness journey, to correct and teach the movements that are new for you, and to encourage you at every session to be able to feel your best. Fitness in my toughts is much more than building more muscles or to get a skinny body. It helps you to learn more about yourself, learn how to be dedicated, and build your inner strength as well. Do not hesitate to join me on the journey of a happier, healthier and way more confident life and let's change your relationship with training and nutrition together!
Menyhért Horváth
Professional edző
Hey there! Ready to supercharge your fitness journey? As an experienced personal trainer, (I have been here for nearly 6 years) my passion is still empowering clients like you to conquer their health goals. In addition I want you to have a pain free, flexible, strong and athletic body! With personalised workouts and unwavering support, I will be your partner every step of the way. Lets crush your limits, boost your confidence, and create a sustainable, vibrant lifestyle you will love waking up to! My Qualifications so far:
IWI Personal trainer
IWI Fitness Instructor
Functional Movement Screen Level1
Certified Functional Strength Coach Level1
KRE BTK Master degree in Arts
Bánk Horváth
Professional edző
Benjamin Juhász
Professional edző
My goal is to help people to preserve and develop their health. If you want to become fitter, or want to compensate the detrimental effect of sedentary lifestyle, or you are an athlete looking for something to complete your trainings, feel free to contact me. I believe that with an optimistic and positive attitude we can achieve great things.
Odett Kádár
Professional edző
After a complex condition survey i will give you a personalized training plan. Adapting to you, we move towards achieving your goal with a varied training program that is most suitable for you. In addition to this, I also prepare an individualized correction and rehabilitation plan, if the assessment is necessary in the future. I strive to always present you with new challenges, all in such a way that the feeling of success is not left behind. My goal is to make you fall in love with movement and look at your training with a new perspective, all of which you like and have a great mood.
My qualifications
IWI Fitness Instruktor
IWI Personal Trainer
Functional Movement Screen Level 1
Key to Smart Gymnastics level 1
Sport rehabilitation Trainer
Zsuzsa Kalló
Professional edző
Tamás Kilin
Professional edző
Éva Kirschner
Professional edző
Péter Kiss
Professional edző
Hella Kolonics
Senior edző
Get ready to be constantly challenged, whether it\\\\\\\'s a harder workout or forming a new habit! I will help you set goals and guide you through expertly designed training programs. In addition to my coaching qualifications, I am also a qualified psychologist, so I pay particular attention to the psychological aspects of exercise and health. I always adjust the exercises to your current physical and mental condition. It is important to me that the workouts are consistent, yet varied. I believe in a long-term approach that serves your physical goals and your health in a sustainable way. I aim to provide useful knowledge and ideas in both movement, nutrition and lifestyle. My qualifications: ART Coaching Training - Personal Trainer ART Coaching Training - Functional Cross Trainer ART Coaching Training - Nutrition and Lifestyle Counsellor ART Coaching Training - Spine Trainer Pázmány Péter Catholic University - Psychologist
Sándor Kovács
Professional edző
Adrián Lihotzky
Senior edző
When I make your program I take your age, gender, fitness level and lifestyle into consideration. In my classes I incorporate prevention with my guest's own goals. It's a lovely thing to heal somebody, but in my opinion the prevention is more important. Working out regularly and having an organized lifestyle could help us stay healthy.
Benjamin Márta
Standard edző
Réka Mészáros
Professional edző
I don't see the human body as body parts. I like to train all muscle groups at once. I like to vary my exercises and to involve the most effective eqipments. All of my clients will get a training plan 100%  made for them.
Patrik Ormai
Professional edző
After the consultation and the Functional Movement Screen I design a personalized program based on the aforementioned movement screen and my client's goals. When it comes to the workout program itself I use the preventive approach which means that I put a lot of emphasis on improving mobility and strengthening the core muscles. But I also try to teach my clients that training is not for punishing our bodies, ourselves, but it is the exact opposite. It is a tool for us to design a bullet-proof body which is more resilient and as a result we feel more confident and we function better.
Laura Pfeiffer
Senior edző
Armand Schneider
Senior edző
I help you reach your goals by supplying you with useful information and a tailored training plan. I focus on basic movement patterns and the required mobility so that you can workout as effectively and safely as possible. For your goals I choose the appropriate equipment and method and I teach you How to use them. I sort out the ideal weights that you are able to do based on your current physical level and I increase the intensity with this in mind. You will always know why we do certain activities in the training. Last, but not least, during my workouts I can guarantee you the motivation and the excellent atmosphere that help you achieve what you want.
Erik Schönfeld
Professional edző
Eszter Szabó
Standard edző
Nóra Szalontay
Standard edző
After a consultation, including surveys, we will start working together with an individualized training plan, and I can guide you to a healthy lifestyle, with nutrition and diet advice. The training sessions will be adapted to your abilities, needs, goals, and to correct any muscle imbalances. In addition to prioritizing individual goals, we will develop several skills at the same time, like: strength, endurance, stability, flexibility, coordination and speed. I can also help you with a personalized program if you are a pregnant or postpartum women:
when planning a child, preparing for pregnancy;
during pregnancy, prepare for childbirth, support healthy weight gain, maintain correct posture;
after childbirth, to promote regeneration, to restore pre-pregnancy weight.
Zsolt Szekeres
Professional edző
Erik Szvett
Professional edző
Gábor Takács
Professional edző
Veronika Thaly
Senior edző
Ákos Tihanyi
Professional edző
Attila Török
Professional edző
Renáta Tóth
Professional edző
Mónika Ugróczi
Professional edző
Gergely Várallyay
Senior edző
I will give you diverse training sessions starting with learning the basic movement patterns and strengthening the core muscles, in which functional training exercises play a major role. The goal is to train and strengthen the entire body, for which I take into account personal goals and the correction of posture errors resulting from our everyday lifestyle, as well as physical and age characteristics. A consultation and condition assessment will take place before making your training plan. I look forward to seeing you if your goal is to increase strength, gain muscle, lose weight, improve posture, or to move from a sedentary lifestyle to a more athletic one.
Beáta Vedres
Professional edző
Why train with me? There are no similar physical or mental states, so their combination is also different minute to minute. That is why:
No generalization: everything is personalized, condition assessments, continuous feedback
Gradualness: gradual load according to your current state, but with a goal in front of you
Heart rate control: using the right heart rate range for the most efficient work
Whether it is about improving well-being, adjusting body weight, building muscle, or improving general endurance, I keep the above three in all cases. In order to achieve the previously set goal, the focus is of course constant, but we change the method according to your current physical and mental state in order to achieve - I feel good in my own body! - feeling.